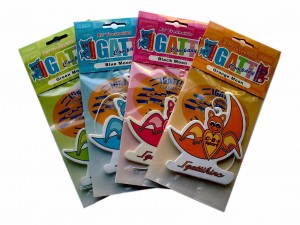 Packaged Air Fresheners
Packaged Air Fresheners are an excellent choice for advertising giveaways. Custom made from absorbent cotton paper. The header cards and fresheners are personalized with your design. Standard size is 80mm x 80mm. The design is cut to any shape within that area.  The hanging accessory can be a white or black string or a plastic hook. Custom printed packaging is available with full color printing as shown above. Minimum order is 1000 units.  Huge range of fragrances to choose from.
Fragrances:  banana, green apple, pineapple, christmas tree, jasmine, tulip, cooler water, ocean, honey, blueberry, honey peach, starfruit, chrysanthemum, pine, violet, forest, bubblegum, milk, cherry, lemon, strawberry, cinnamon, mint, Chanel fragrance, forest berry, coffee, milk tea, citrus, mango, watermelon, lavender, rose, Chanel No. 5, nature, ginger, red wine, coconut, papaya, carnation, lily , sunflower, cologne fragrance, new car fragrance, green tea and sweet down.  If the fragrance you require is not in this list, please contact us.