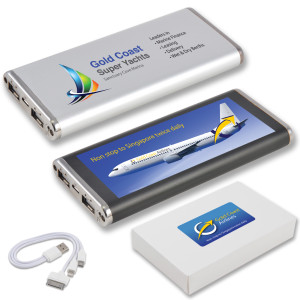 Promotional Power Bank Chargers
Promotional Power Bank Chargers that keep your mobile devices fully charged are essential in today's fast-paced world. Whether you're working remotely, travelling, or just out and about, having a reliable power source for your smartphone and other gadgets is crucial. That's power bank chargers come in. They offer a convenient way to keep your devices powered up on the go.
Our chargers are designed to be compact and portable, making them easy to carry in your pocket, purse, or backpack. They come in a variety of styles and colors, so you can choose one that matches your personal style. But aside from their stylish looks, these chargers offer a host of benefits that make them a must-have accessory for any tech-savvy individual.
First and foremost, promotional power bank chargers provide a reliable power source for your mobile devices. You no longer have to worry about running out of battery life when you're on the go – simply plug in your phone or tablet and let the charger do the rest. This is especially useful for those who travel frequently or work remotely, as it allows you to stay connected and productive even when you're away from a power outlet.