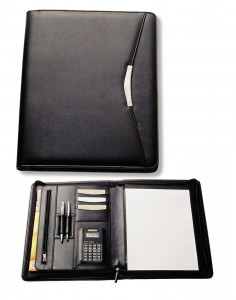 Koskin Compendium | BN9012
Koskin Compendium is a zippered A4 Compendium that is made from koskin leather look material. This Koskin Compendium comes with a calculator and a gun metal badge. The compendium has an external pocket.
size 280mm x 345mm
badge size 13mm x 90mm
decoration * laser engraving on badge or screenprint, embossing, or foil on the front
Features include zippered closure, internal gusseted pocket, internal zippered pocket, 2 pen loops, business card holders, solar powered calculator, gun metal badge, zipper closure and A4 size lined pad which inserts from the top. Pens not included. Engrave silver. Fits an iPad in the front pocket/left side pocket.