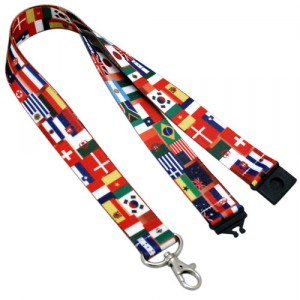 Sublimated Lanyards | B2003C
Sublimation Printing Lanyards are an economical way of having full color logos printed onto lanyards. Our standard size lanyard is 25mm x 900mm. We have a large range of lanyards in various widths with a number of fitting options. These sublimation lanyards are a soft polyester fabric.
What is Sublimation Printing?
Dye Sublimation, is really very simple. It is the method of applying an image to specially coated ceramics, metals and polyester cloth, using three main ingredients: sublimation ink, heat and pressure.
Sublimation ink is unique in its ability to convert from a solid to a gas without going through a liquid form.  The conversion is initiated by heat and controlled with pressure and time. Hard items such as ceramic, fiber board, metals, etc. requires a special coating to accept the sublimation inks.