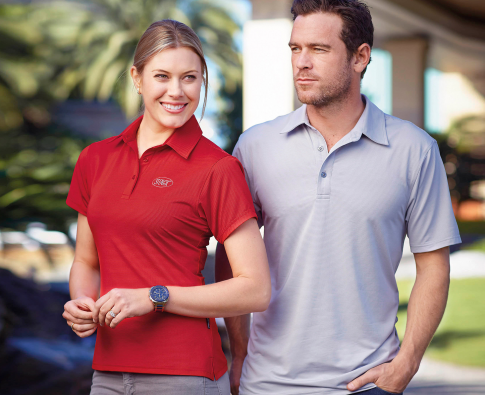 Stencil Silvertech Polo Shirt | B1058
Stencil Silvertech Polo shirt is made from 130g 100% polyester high performance fabric.  Yarn treated with both Cool Dry & nano scale silver technology.  Permanent natural anti bacterial & deorodised finish.  Keeps the body fresh, clean and cool all day long.  Features horizontal silver stripes on the body with a 3 button placket in both the mens and ladies styles.  Ideal for sports or uniform wear. Breathable, static free, iron free, quick drying, de-odorised treatment with a UPF rating of 50+.  Fabric has antibacterial protection. Great range of colours to choose from.
Since 1996, Stencil have been bringing innovative new designs and fabrics into the Australian corporate, promotional, uniform and sportswear market. Stencil is best known for their high-quality, high-concept fabrics such as a yarn-woven Cool-Dry®, liquid-repelling Nano-Gear®, the vibrant and super-comfortable Solar-Lite® and their most recent addition, Bio-Weave®, a silky blend of plant cellulose and Cool-Dry® yarn.
Stencil's product range spans from distinctively styled polos and t-shirts for both men and women to business shirts, cold-weather clothing (including fleeces and jackets) and custom orders. Though Stencil is constantly working on creating and refining their new fabric technologies for each season, Stencil also appreciate the value of more traditional fabrics, from soft cottons to poly/cotton waffles. By understanding the intrinsic values of different materials, Stencil is able to match the ideal characteristics for a given item of clothing to the most appropriate fabric or blend.
Stencil carries a full stock service on all of their product lines with the promise of fast & professional service. Stencil trusts that their range will help you and your label stand out from the crowd.