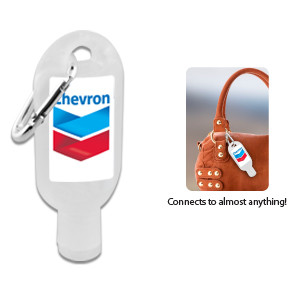 Sanitiser Gel | BCH-304
Sanitiser Gel will protect your skin anywhere, anytime with this gentle hand sanitiser gel bottle. Comes in a 30ml clear plastic dispenser with a full colour digitally printed label.  Comes with a a carabiner attached for easy portability. Features 62% Ethyl Alcohol, Vitamin E and Aloe Vera. Product Size * 93 (w) x 38 mm (h) with an Imprint Area * 26 x 40 mm (h).
To prevent the transmission of dangerous diseases – the most important thing is to frequently wash your hands with soap and water and/or use a hand sanitizer. If soap and water are not available – a hand sanitiser is a safe option.