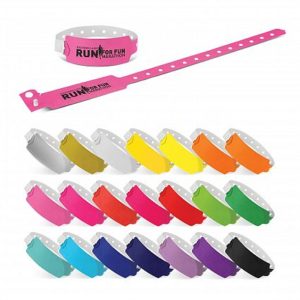 Plastic Event Wristbands | B110889
Plastic Event Wristbands are tough tamper proof, snap lock wrist bands manufactured from stretch resistent tri-laminate plastic. The plastic is waterproof. These wrist bands are designed for crowd management at multi day events, rugged out door events and events where water is involved. It is available either branded or unbranded in 21 different colours with optional serial numbering. A lead time of 15 working days applies to this product. Minimum order is 1000 units.
Colours | Silver, Gold, White, Yellow, Neon Yellow, Orange, Neon Orange, Pink, Neon Pink, Neon Sunfire, Cranberry, Red, Neon Lime, Green, Aqua, Neon Blue, Blue, Dark Blue, Lavender, Purple, Black.
Dimensions | L 262mm x W 27mm.
Branding Options | Screen Print: L 50mm x H 20mm (one colour).