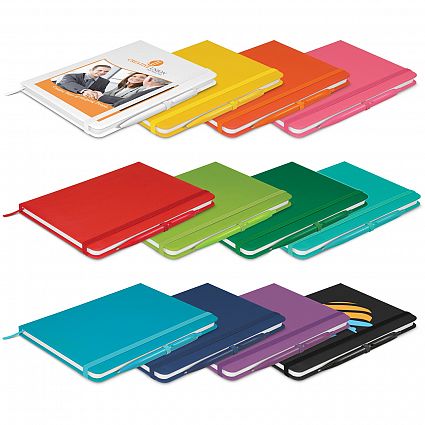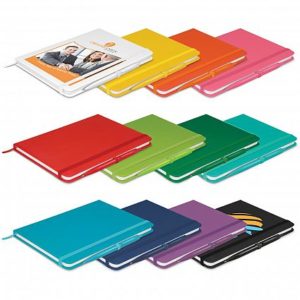 Notebook with Pen | B108827
Notebook with Pen is a medium 80 page note book complete with lined pages, an elastic closure band, book mark ribbon and a pen loop. Has a hard cover with a luxury soft touch Neoskin finish and includes a matching coloured pen. A huge range of branding options are available for this notebook pen combo.
Colours | White, Yellow, Orange, Pink, Red, Bright Green, Dark Green, Light Blue, Dark Blue, Purple, Black.
Dimensions | W 144mm x L 210mm x 15mm.
Branding Options:-
Pad Print: Note book – 65mm x 65mm.
Pad Print: Pen – Postions D & E – 60mm x 6mm.
Screen Print: Notebook – 115mm x 195mm (one colour).
Screen Print: Pen – Position A – 60mm x 16mm.
Direct Digital: Notebook – 120mm x 190mm.
Direct Digital: Pen – Positions D&E – 80mm x 6mm.
Debossing: Notebook – 70mm x 70mm.