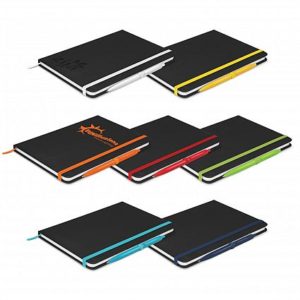 Notebook with Elastic Closure | B110091
Notebook with Elastic Closure is a smart medium size notebook with 80 lined pages. Features a book mark ribbon, an elastic closure band and a pen loop. The book has a hard cover with a luxury soft touch Neoskin finish and a matching plastic pen is included in the pen loop. (Please note that the pen and notebook are matched as closely as the materials allow).
Colours | White/Black, Yellow/Black, Orange/Black, Red/Black, Bright Green/Black, Light Blue/Black, Dark Blue/Black.
Dimensions | W 144mm x L 210mm x 15mm.
Branding Options:-
Pad Print: Notebook – 65mm x 65mm.
Pad Print: Pen – Postions D & E – 60mm x 6mm.
Screen Print: Notebook – 115mm x 195mm (one colour).
Screen Print: Pen – Position A: 60mm x 16mm.
Direct Digital: Notebook – 120mm x 190mm.
Direct Digital: Pen – Positions D & E: 80mm x 6mm.
Debossing: Notebook – 70mm x 70mm.