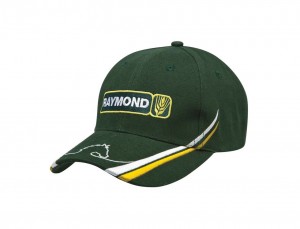 Melbourne Cup Caps | BEL3343
Melbourne Cup Caps are ideal caps for the horse racing enthusiast and the horse racing industry. Get ready to celebrate this great day with this horse inspired cap. This branded and embroidered structured cap features an embroidered horse design on the peak with striped embroidered panels as well.  Structured cap with sewn eyelets.  Minimum order 100 units.  Decoration * embroidery.  Custom colours are available.
The Melbourne Cup is Australia's major thoroughbred horse race. Marketed as "the race that stops a nation", it is a 3,200 metre race for three-year-olds and over. It is the richest "two-mile" handicap in the world, and one of the richest turf races. Conducted annually by the Victoria Racing Club on the Flemington Racecourse in Melbourne, Victoria, the event starts at 3pm (daylight saving time) on the first Tuesday in November.
The first race was held in 1861 (see list of Melbourne Cup winners) over two miles (about 3,218 metres), but was shortened to 3,200 metres (2.0 mi) in 1972 when Australia adopted the metric system. This reduced the distance by 18.688 metres (61.31 ft), and Rain Lover's 1968 race record of 3min.19.1sec was accordingly adjusted to 3min.17.9sec. The present record holder is the 1990 winner Kingston Rule with a time of 3min 16.3sec.