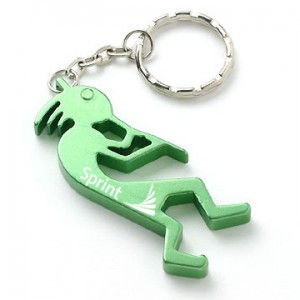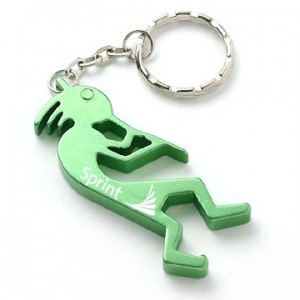 Kokopelli Keyring Bottle Opener | BCP83891
Kokopelli Bottle Opener Keyring is made from anodized aluminium. Large range of colours available. Minimum order for this product is 500 units. Laser engrave with your company logo or advertising message.
A little bit about Kokopelli. Kokopelli is a fertility deity, usually depicted as a humpbacked flute player (often with feathers or antenna like protrusions on his head). Like more fertility deities, Kokopelli presides over both childbirth and agriculture in ancient cultural beliefs. He is also a trickster god and represents the spirit of music.
Among the Hopi, Kokopelli carries unborn children on his back and distributes them to women; for this reason, young girls often fear him. He often takes part in rituals relating to marriage, and Kokopelli himself is sometimes depicted with a consort, a woman called Kokopelmimi by the Hopi. It is said that Kokopelli can be seen on the full and waning moon, much like the "rabbit on the moon".
Kokopelli also presides over the reproduction of game animals, and for this reason, he is often depicted with animal companions such as rams and deer. Other common creatures associated with him include sun-bathing animals such as snakes, or water-loving animals like lizards and insects.
In his domain over agriculture, Kokopelli's flute-playing chases away the winter and brings about spring. Many tribes, such as the Zuni, also associate Kokopelli with the rains.[2] He frequently appears with Paiyatamu, another flutist, in depictions of maize-grinding ceremonies. Some tribes say he carries seeds and babies on his back.[2][3]
In recent years, the emasculated version of Kokopelli has been adopted as a broader symbol of the Southwestern United States as a whole. His image adorns countless items such as T-shirts, ball caps, and key-chains.