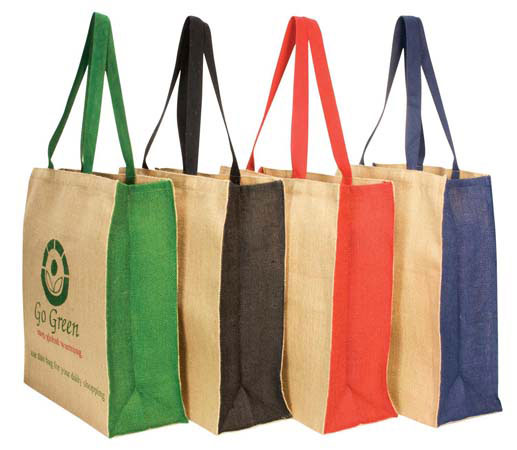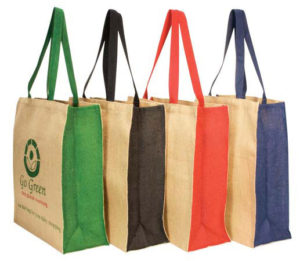 Coloured Jute Carry Bags | BOG1035
Coloured Jute Carry Bags have colourful panels. Made from 100% natural jute. The bag features a plastic laminate inner. Contrasting coloured gusset and webbing handles. Decoration is available with screen printing and digital transfers.
size * 400 x 370 x 150mm
branding Size * 200 x 200mm
What is Jute?
Known as the "Golden Fibre" Jute is a long, soft, shiny vegetable fibre that can be spun into coarse, strong threads; the threads are then turned into material. It is one of the strongest of all natural fibres available today.
The features of jute are becoming increasingly important to consumers and manufacturers alike and it is gaining popularity for good cause. It is reusable and biodegradable – jute mixes with soil and breaks down. In the process, nutrients are restored to the soil. On combustion, its fumes are non- toxic and produce no residue. One Hectare of jute consumes over 15 tonnes of CO2, several times higher than trees. Jute production is one of the oldest industries in India with the majority of the world's jute grown on small farms in the West Bengal region of India.
Well known for its industrial uses, jute is also ideal for attractive gift packaging, especially when used as a clever contrast for luxury products. Inherently beautiful in its natural finish, it can also be dyed to any required shade. It has been revolutionized and refined by the modern environmentally conscious fashion industry.
Jute bags are a natural alternative to plastic and re-usable non woven PP bags (Commonly known as a Supermarket Green Bag but they are made from Poly Propylene, a by product of the petro chemical industry!)