Bags with Printing are a terrific way of getting your advertising message across as well as promoting your company or services. These bags have a multitude of uses and are suitable for conferences, product giveaway bags and retail shopping bags.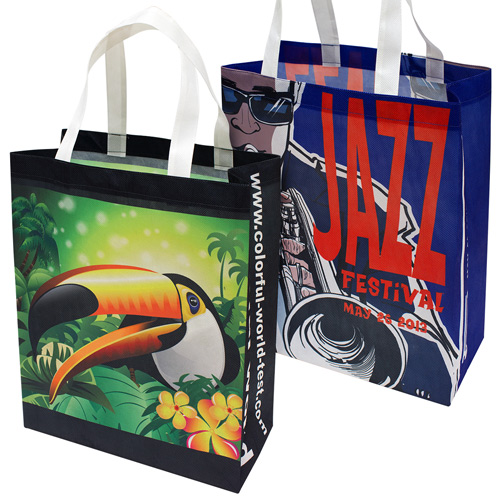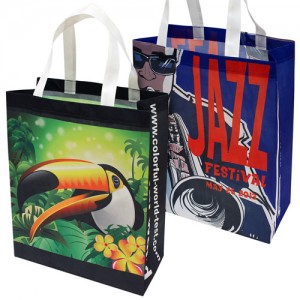 Bags With Printing | B015a
Bags with printing are environmentally friendly non woven bag with full colour printing. These promotional bags  can be printed on all five sides. The bag size is 315mm x 405mm with a gusset & base of 150mm. Made from 80gsm non woven fabric. Featuyres short handles. An ideal all round shopping bag. Decoration is on all five sides of the bag. The fabric is non woven which is polyester. Made from recycled from plastic bottles. The print process of sublimation printing which is also an environmentally friendly process. Minimum order for this product is as low as 100 units. These bags are available in a large range of sizes.
A reusable shopping bag, sometimes called bag for life, is a type of shopping bag which can be reused many times: this is an alternative of single use paper or plastic bags. It is often made from fabric such as canvas, woven synthetic fibers, or a thick plastic that is more durable than disposable plastic bags, allowing multiple use.
Reusable shopping bags are a carrier bag, which are available for sale in supermarkets and apparel shops. Reusable shopping bags require more energy to produce than common plastic shopping bags. One reusable bag requires the same amount of energy as an estimated 28 traditional plastic shopping bags or eight paper bags. "If used once per week, four or five reusable bags will replace 520 plastic bags a year" according to Nick Sterling, research director at Natural Capitalism Solutions. A study commissioned by the United Kingdom Environment Agency in 2005 but never published found that the average cotton bag is used only 51 times before being thrown away.