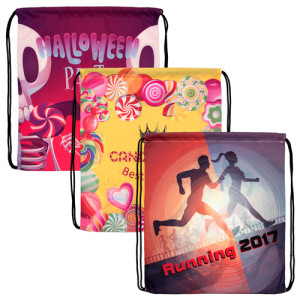 Backpacks | B008BR
Backpacks are colorful, full color printed bags with a drawstring. Printed with your design on both sides of the bag. Each side of the bag can have a different full color design. Made from polyester material. The minimum order for this backpack is as low as 100 units. Bag size is 350mm x 395mm.
These unique bags will really get your advertising message across without busting your marketing budget. Lightweight backpacks are very popular with schools, sporting teams, universities as they are easy to carry and with the total area of the bag available for printing – this is a great opportunity to display logos in the best possible way.
Printed Back Sacks are produced with full colour sublimation printing on both sides with your design.