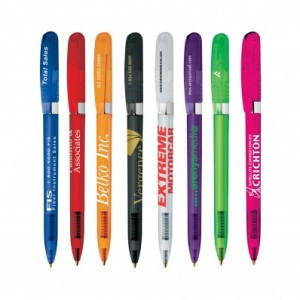 Top Selling Promotional Products
There is a reason why some promotional products sell better than others – it is because they work. The items that are ordered most by companies looking to promote their brand have been tested time and again, with positive strong results. Customers respond well to certain items better than others – they are therefore more likely to remember your brand name, and ultimately do business with your company.
When you are ready to choose your promotional product that will carry your company to the next level, there are plenty of things to consider. If you are feeling overwhelmed, you might want to fall back on some of these top selling promotional items. This will ensure that you are not getting too experimental with your products, and there is a very high probability that you will see great results. Let's take a look at the top best selling promotional items on the market now.
Promotional drink/water bottles are by far the best selling promotional item on the market today. There are several reasons why, but we can start by saying that the water bottle is so successful because it has a basic functional value. Humans need to drink water. This simple equation equals the fact that people are definitely going to have some use for a promotional drink bottle.
Printed Promotional Backpacks are a well proven and popular promotional product to advertise your brand. Once again this promotional item serves a basic function for the recipient – to carry their personal belongings. The promotional drawstring backpacks are lightweight and can be printed in full colour with your design or company logo.
Promotional Pens – There are literally thousands of promotional pens available so it all depends on what you are willing to spend. The great thing about promotional pens is that you get a great value for an affordable price.
Promotional Keyrings have proven to always be a popular and economical promotional giveaway.  If you are searching for the perfect promotional giveaway for your upcoming promotion, then why not consider a keychain custom made to your design.
Promotional USB Flash Drives are one of the most popular useful products on the market today.  They make ideal giveaways because of their size and also their usefulness.  Promotional flash drives comes in all shapes, sizes and designs.  Memory capacity starts at 512MB through to 16GB.  Custom made designs are available and flash drives can be pre-loaded with your advertising data.  A great promotional giveaway!
Promotional Bags are perfect to conferences, fundraisers, events and trade shows.  Not only are promotional bags a useful item, but recipients will incorporate them into their everyday lives – which results in your advertising message or logo being constantly viewed.  Eco Friendly bags are very popular and they also highlight the 'green' aspects of your company to your end user.  A great way to let your clients know that your and your company respects the planet  and its resources.
Promotional Mugs are always a safe choice with great marketing potential.  Used at home, work, taken to business meetings and interviews – they are constantly a branding device in any work or office situation.
Promotional Office Products along with office supplies are used countless times by more people than their owner.  So they are a constant reminder when they are decorated with your branding.
Promotional Mobile & Technology Products – chargers, computer accessories, headphones, mobile accessories – all useful and popular promotional products.
Promotional Anti Bacterial Products – We were all taught at a very young age just how to combat germs and prevent sickness by washing our hands. But we also all know that in today's increasingly mobile society it can be difficult to find a sink when you need it.  That's why, if you're concerned about the health and wellbeing of your customers and clients, then consider passing out custom imprinted antibacterial sanitizers.  There are many different forms, from sprays to wipes, so you'll find the perfect fit for your company or organization.
By incorporating these top 10 promotional items into your next marketing operation, you can feel confident that people will focus on your company in a positive way. Once these areas have been explored, you can begin to test out some other promotional products that are more specific to the type of industry that you are in.