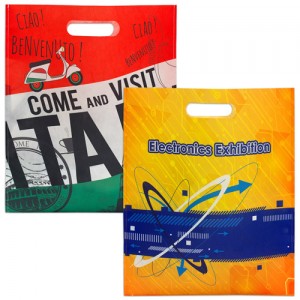 Biodegradable Non Woven Bags
Our new range of environmentally friendly biodegradable bags are the perfect replacement for paper or plastic bags. These biodegradable non woven fabric bags are made with eco friendly material and are printed with full colour printing all over.  We have a large range of different sizes available with cut out handles or with short or long shoulder handles. Enviro bags are becoming increasingly popular and are econonomical.  Perfect for retail stores, conferences and events, general advertising and promotion.
Whether it be shopping bags, sports bags, cooler bags or travel bags, rarely do we leave our homes or offices without a bag of one description or another… which means that they make an excellent promotional product. Usually with a large print area and often having multiple print areas they provide an excellent opportunity to make a big impact…. and because they are so useful they are guaranteed to drive your promotional dollar further and maximise the effectiveness of your next promotional campaign.
Nonwoven fabrics are broadly defined as sheet or web structures bonded together by entangling fiber or filaments (and by perforating films) mechanically, thermally or chemically. They are flat or tufted porous sheets that are made directly from separate fibers, molten plastic or plastic film. They are not made by weaving or knitting and do not require converting the fibers to yarn. Typically, a certain percentage of recycled fabrics and oil-based materials are used in nonwoven fabrics. The percentage of recycled fabrics vary based upon the strength of material needed for the specific use. In addition, some nonwoven fabrics can be recycled after use, given the proper treatment and facilities. For this reason, some consider nonwovens a more ecological fabric for certain applications, especially in fields and industries where disposable or single use products are important, such as hospitals, schools, nursing homes and luxury accommodations.
Nonwoven fabrics are engineered fabrics that may have a limited life, single-use fabric or a very durable fabric. Nonwoven fabrics provide specific functions such as absorbency, liquid repellence, resilience, stretch, softness, strength, flame retardancy, washability, cushioning, thermal insulation, acoustic insulation, filtration, use as a bacterial barrier and sterility. These properties are often combined to create fabrics suited for specific jobs, while achieving a good balance between product use-life and cost. They can mimic the appearance, texture and strength of a woven fabric and can be as bulky as the thickest paddings. In combination with other materials they provide a spectrum of products with diverse properties, and are used alone or as components of apparel, home furnishings, health care, engineering, industrial and consumer goods.