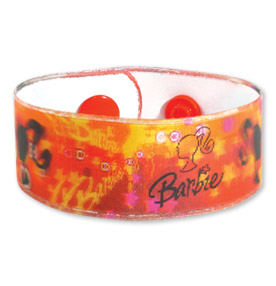 Lenticular Wristbands | BW114
Lenticular Wristbands are made from soft PVC with a custom printed lenticular design.
decoration * screen or offset printing

minimum order 1000 units
Lenticular printing is a multi-step process consisting of creating a lenticular image from at least two images, and combining it with a lenticular lens. This process can be used to create various frames of animation (for a motion effect), offsetting the various layers at different increments (for a 3D effect), or simply to show a set of alternate images which may appear to transform into each other. Once the various images are collected, they are flattened into individual, different frame files, and then digitally combined into a single final file in a process called interlacing. Lenticular printing has been used to produce many different kinds or promotional products which allows the image to morph between two different character appearances when the angle of viewing changes.